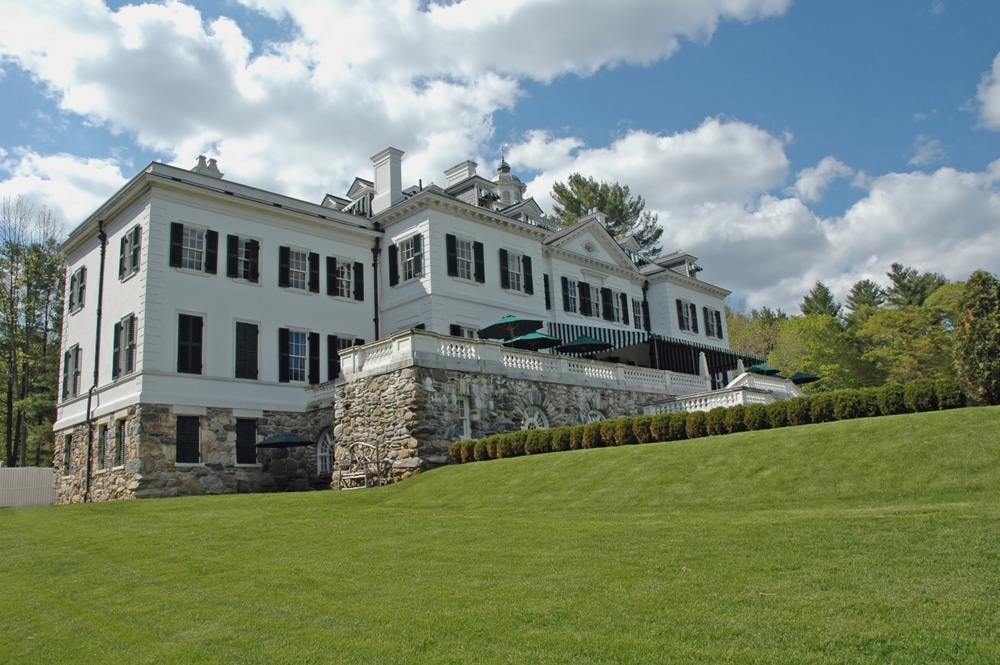 The Berkshires and Hampton Terrace are synonymous with luxury. The property on which Hampton Terrace sits was the original site of the town's blacksmith. A home was built on this property by Edmund Spencer in 1852. Fourteen years later, Ogden Hoffman's widow acquired the home and property. Hoffman was one of New York's most celebrated lawyers.
The property was so sought after, that it was known far and wide as one of the most amazing estates in all of the Berkshires. The widow Hoffman had the estate for nearly thirty years when she sold it to a famous marble dealer in Philadelphia, John Struthers, and his life-long mate, Virginia. Family of the author Ms. Edith Wharton (author of The Age of Innocence) lived on the adjoining property. The Struthers idea was to turn their new property into something befitting their status.
John Struthers was the man responsible for every building of marble designed in Philadelphia, as well as the US Mint in Washington, D.C. If that was not enough of a claim to fame, Struthers was also responsible for the creation of Mr. and Mrs. George Washington's resting places in Mount Vernon. Mrs. Struthers also came from high society, her father the captain of an ocean liner named The Universe. This property in the Berkshires was to be there summer cottage home, and they named it aptly Wynnstay. Their "cottage" home had more than ten bedrooms, two full baths, and a horse stable.
For several years, Ms. Wharton lived on the property next to the Struthers, and Virginia is one of the main characters in The Age of Innocence.
The Bonner family purchased the home in 1917. Mr. Robert Bonner Jr was, at the time, one of the country's richest men. He and his wife, Kitty, spent their winters in Paris and their summers in Lenox, Massachusetts. They took to renaming their new summer home Hampton Terrace, after their son, Hampton. Their daughter Kate had the logo for Hampton Terrace created in Paris and the logo remains today. Hampton Terrace is a testament to the luxury that is the Berkshires region of Massachusetts.