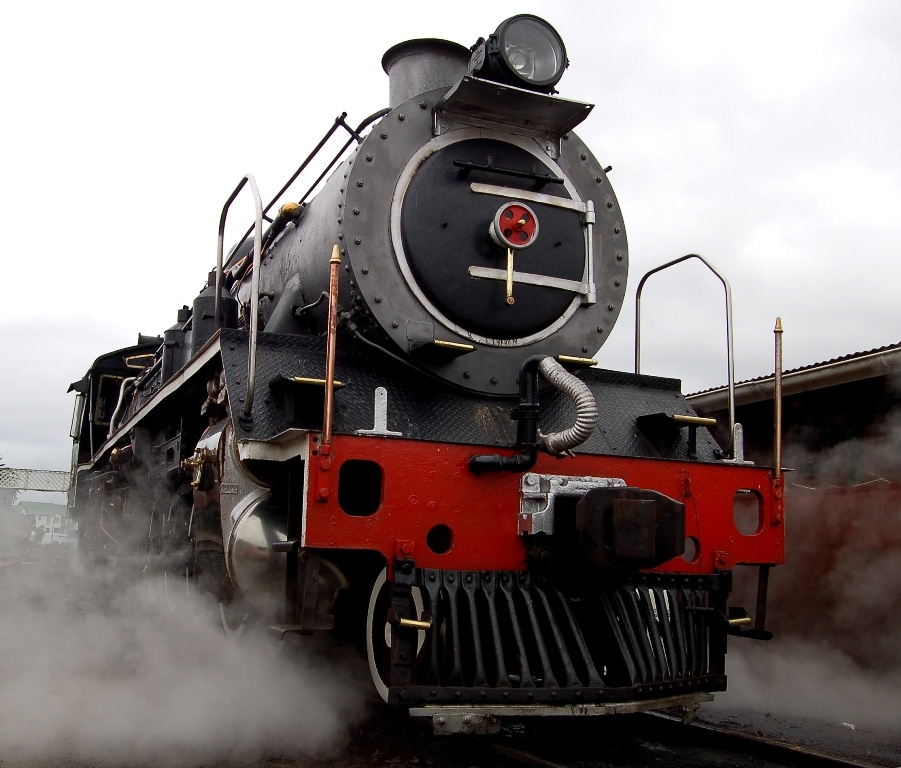 The Blue Train of Pretoria, South Africa – Sometimes a vacation is just that – nothing more than a means of getting away from the norm. Other times, you want to be treated. A little extravagance never hurt anyone, right? Imagine a butler who quickly whisks away your bags while you sip your tea and gourmet-inspired snacks while waiting to board – a tangible air of excitement all around you. It's always a special occasion when you ride the Blue Train of Pretoria.
The butler will show you to your room upon boarding, where you'll find a personal letter welcoming you aboard. Chilled champagne awaits, as well as a platter of fresh fruit. By day there is a couch, a chair with a writing desk, and ample space to move about. By night, the couch converts to a queen bed made with the finest linens, and your space becomes so much cozier. At the same time, the high ceiling and the picture window through which you can watch the safari-land pass by somehow alleviates your usual claustrophobia. It is actually quite luxurious, this gentle comforting cocoon in which you have found yourself, a calm train engine rumble as constant white noise.
Rather than just watching the world go by, however, there is also a live-feed from the conductor's room that is connected to your suite's television if you want to watch where you're going. The décor of your suite is delightfully old-fashioned with classic golden and brown hues, wood, and leather accents. South African flowers are in vases on the train.
You will have about an hour and a half to soak up this relaxation in your suite. Once you begin to leave Cape Town and enter the valley of the Hex River, stay near your window, as the views are simply breathtaking. Then, you can explore the train for a while. You will notice that food and drinks are easy to find, as the lounge and the dining room are adjacent. In the lounge, you can eat and drink regardless of time of day. Because the whole excursion is about nothing but relaxation, you might find you need to pace yourself in between meal times! At meal times, you'll be pleased to find sterling silver tableware, crystal glasses, and impeccable style.
There's so much to love about the Blue Train of Pretoria, this is one excursion you won't want to miss!