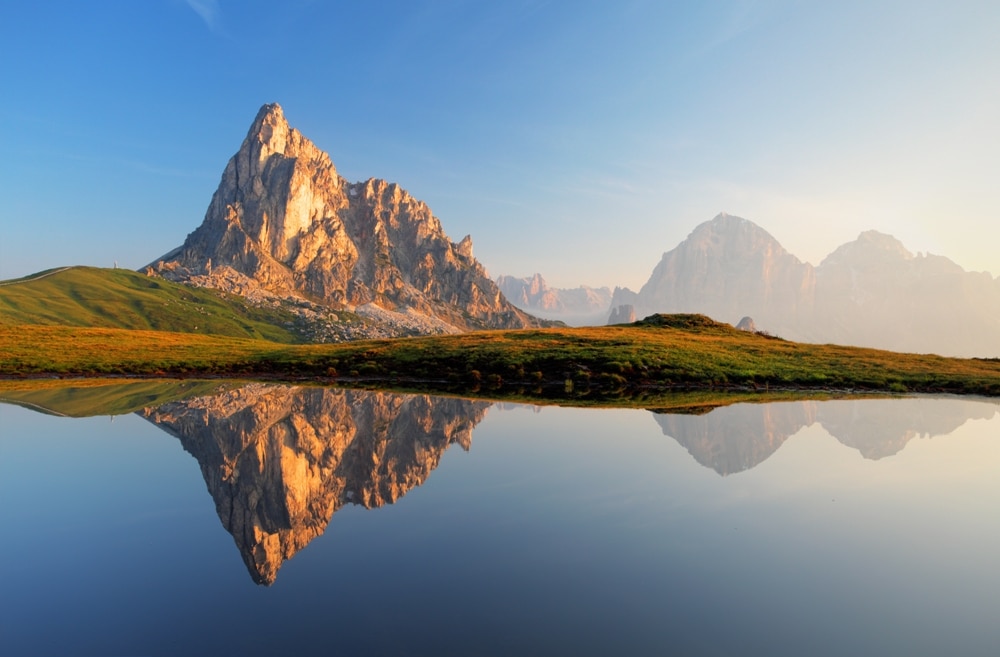 The Dolomites of Belluno, Italy – Quite possibly the most beautiful architectural feat ever accomplished was not done so by man. The Dolomites, located in the Belluno Province of Northern Italy, are Mother Nature's offering to the architectural gods.
This unique mountain range is strange when compared to ones you're used to seeing. These pinnacles jut straight into the air like chimneys; in fact, art historians may recognize them as the peaks in the background of Leonardo's Mona Lisa.
While stunning by day, and regardless of your vantage point, the Dolomite mountains are never quite as impressive as they are by the waning light of dusk, when the sun's final rays of the day languish a pinkish hue into an interminable purple. Locals to the region even have a name for this transformation – enrosadira – also known as Alpenglow. This is actually a scientific term regarding the reddish tint that is given to higher elevations as the sun dips just below the horizon.
Regardless of from where you view this amazing mountain range, part of the allure of the Dolomites are the many ways you can. There is a myriad of ways to get to and into the range, and when you are actually within the peaks, that enrosadira becomes even rosier.
Part of the resulting untouched beauty of the Dolomites stems from the fact that this region has not seen development like many other parts of the world. There are peaceful rivers meandering through picturesque valleys dotted by quaint villages. Some of the dales in the Dolomites remain so secluded that entirely unique cultures have been able to not only remain – but to flourish. Thanks to such isolation, Ladin, a branch of Latin, is still spoken here in Val Gardena and in Val di Fassa.
On the other hand, the parts of this region that have remained accessible have an iconic history of intermingling of cultures that has remained constant. Adige and Isarco Valley are the main access routes between Italy and the rest of Europe, so foods, languages, and architectural styles continue to be that of a blend of the northern and southern inhabitants.