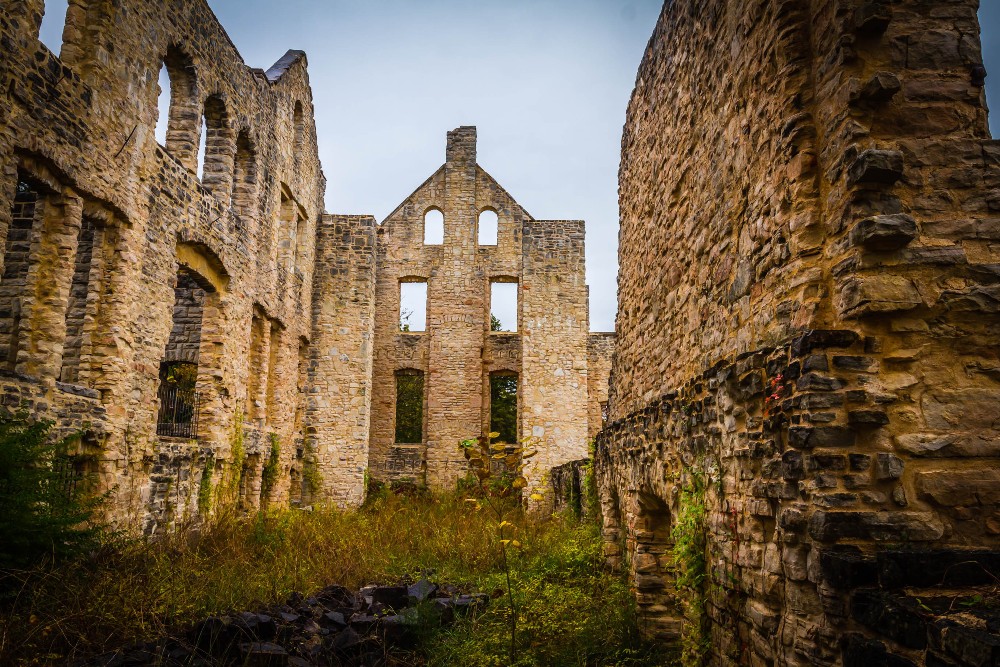 Ha Ha Tonka Castle Ruins & State Park – Camdenton, Missouri  – Visitors to Ha Ha Tonka (which is thought to mean smiling waters) are immediately struck by the sheer magnitude of the endeavor. Building something this vast today seems an immeasurable feat; but, at the turn of the 20th century, it's nearly unimaginable.
This castle and its surrounding grounds were the dreams of Mr. Robert Snyder who owned Kansas City's Snyder Gas Company. Robert purchased this property in 1901 and immediately obtained the architectural services of one of the foremost architects of the time, Adrian Van Brunt, and to keep with European authenticity, hired a Scottish foreman. This endeavor was to be the Snyder legacy; however, in one of Kansas City's first ever car accidents, Mr. Snyder was killed in 1906.
Snyder and his wife had three children, all boys. These children, now men, inherited this castle in its unfinished state. Because they knew it had been their father's dream, they had construction continued and the castle was finally completed in 1922. Soon after, however, the Snyder Gas Company began to see a loss in profits and, if that was not enough, the Snyder sons found themselves entrenched in a raging legal battle to prevent a lake from intruding into their lands.
The youngest of the three sons, Robert Jr., made the castle his home when his father passed. He developed severe health issues and, since he could not work any longer, decided to follow his passion of history, particularly that of Camdenton and Missouri in general. Over the span of twenty years he was able to assemble the largest library of obscure books dedicated to Missourian history, as well as literature and legends surrounding the region, amassing to more than a thousand books.
Robert Jr. passed away in 1937, and by this time, the Great Depression and the endless court battles had exhausted his family's fortune. The castle was then converted into a lodge, and his many books were given to the University at Kansas City. If the books had been left within the castle, they would have been destroyed in the unfortunate fire of 1942.
The castle's remains and the surrounding land is now a state park with hiking and biking trails, as well as boating and fishing at Lake of the Ozarks. Call ahead to 573-346-2986 to confirm.