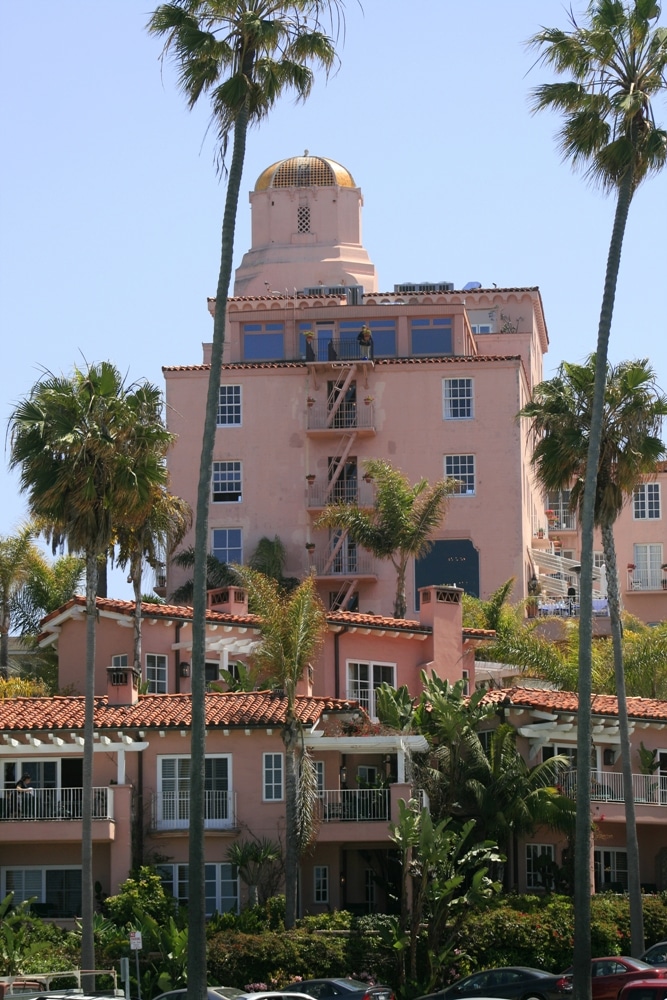 Christmas of 1926 illustrated glamour of the highest degree when La Valencia Hotel first opened its doors. Overlooking La Jolla Beach from high above, La Valencia Hotel in La Jolla, California offers a spectacular vantage point for viewing miles of the southern California coast and Pacific. Known as The Pink Lady, vintage elegance abounds on this property. Built in the Mediterranean architectural style, the hotel itself rivals these dramatic oceanic views. This is a glamorous and romantic venue for any style of celebration, and more than ninety years of history is a sure testimony.
Something of this magnitude had never been seen before in La Jolla. In fact, the original owners, MacArthur Gordon and Roy Wiltsie, were going out on a proverbial limb when they invested $200,000 to the idea's inception. They hired local renowned architect, Reginald Johnson, to design the structure. Johnson was known for his impeccable knowledge of Spanish and Mediterranean architecture.
Originally known as The Apartments of Seville, this destination opened its doors for the first time just ten days before Christmas, with a Grand Opening on December, 29, 1926. It was more than warmly received. Because of this reception, Gordon and Wiltsie decided to invest a further $100,000 to build an addition which would include more guest rooms, a lounge with a lavish balcony, and an in-house restaurant helmed by a dietician-turned-chef.
Throughout the years, several other additions have been made including the acquiring of the adjacent Cabrillo Hotel (1949) to the most recent additions of the Sky Room (2015) and Spa La V (2017).
La Valencia opened at a time in history when the Golden Age of Hollywood was just beginning. Gordon had connections to the movie industry and he knew what it would mean to have Hollywood's seal of approval. La Jolla had remained an unspoiled gem in the eyes of Hollywood, and its beaches and cliff sides had been used in more than one movie – it was the place to go when you needed to get away from it all, and it still is.
La Valencia was added to the roster of America's Historic Hotels in 1989.