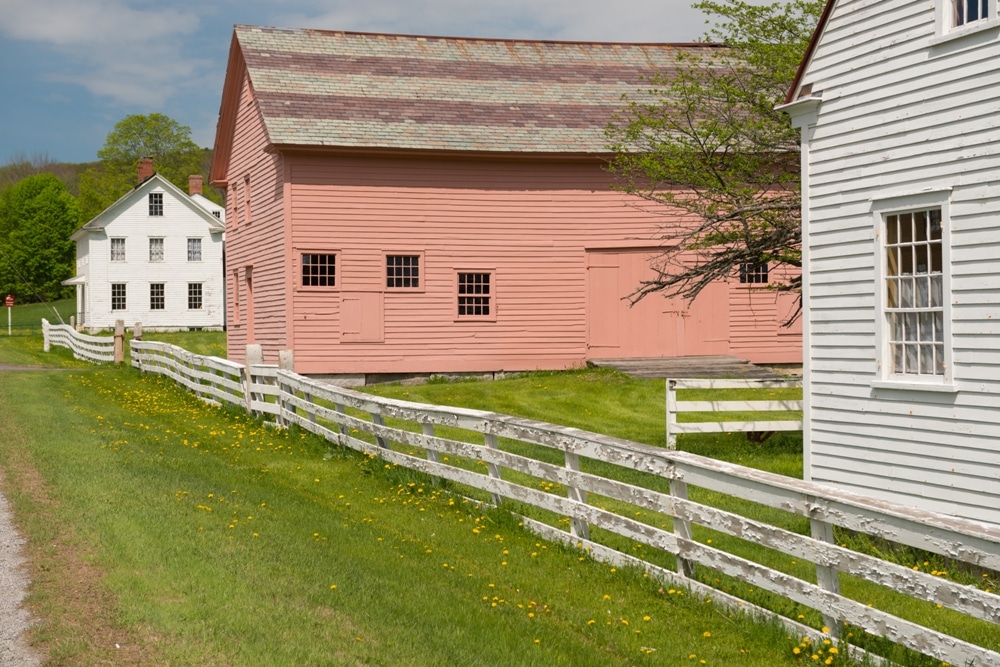 One of few farms in the Berkshire region of Massachusetts that is open to the public, Canterbury Farm offers a fun glimpse into farming life fit for the whole family. Canterbury Farm is open all year long and offers various depictions and activities depending on the time of year. In winter, snow skiing, ice skating, and snowshoe rentals for winter hikes are available. In summertime, guided- or self-guided hiking is available. The bed-and-breakfast portion offers comfortable lodging, and if you're into glamorous camping, or "glamping," the cabin on the hiking trail can also be reserved. In summer, check out some of the local musicians at one of the Music in the Garden occasions.
The guest rooms within the bed-and-breakfast are a mix of yesteryear and today. Historic decorations and furnishings are met with today's amenities you would expect at larger destination resorts, such as Wi-Fi internet. Menu items for breakfast and lunch are primarily locally-grown, and there is everything from your favorite New England fare, to selections for vegetarians and vegans.
In winter, you'll find a roaring fire in the lodge den, as well as complimentary hot chocolate on offer. Your room will be toasty warm to return to after a long day of skiing the Berkshires. Canterbury Farm staff is knowledgeable in outfitting you for your day of skiing with not only proper, but top brand equipment for your day. Regardless of what equipment you require, everything is offered for one all-inclusive price. Staff keeps the hills groomed each day, and if conditions are not perfect, they'll let you know.
Summertime and autumn avail hiking and biking trails, swimming in the heated pool or even at one of the many nearby lakes. Canterbury's gardens are in full bloom by late spring and guided garden tours occur several times per day. State Parks are close, such as October State Forest, and Canterbury rents kayaks for your summertime water fun.
Plan your stay around any of the numerous events in the Berkshires, such as the Pillow Dance Festival or Tanglewood. There are summer camps for children, theater events and concerts throughout the warm months. Stay at Canterbury Farms or just visit for the day and relax with nature.