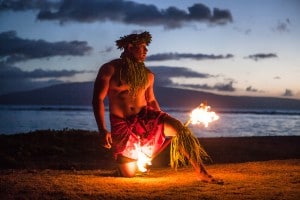 Food and history are unique and exciting parts of travel. They allow us to experience the culture of a destination on the basest levels. Nowhere is this truer than in the Hawaiian Islands where the culture and history of Polynesia still come to life for visitors everyday at Luaus found throughout the islands. Tourico Vacations invites you to come with us today as we take a closer look at luaus and 3 of the best places to enjoy this experience when you travel.
First known as 'aha'aina or the gathering meal, these feasts generally marked only special occasions and were designed to unite those participating. In the early 1800's, the more traditional Luau was developed which welcomed hundreds or thousands from throughout the islands. Today, the luau is still common throughout the islands and visitors from around the world are invited to enjoy this traditional celebration with those who know it best.
Polynesian Cultural Center
You won't be disappointed if you choose the Polynesian cultural Center. A premier destination for learning and exploring the history of the Polynesians and the early settlements of the Hawaiian Islands, the center also offers visitors the opportunity to experience a remarkable luau experience. Guests can choose from dinner/ luau experiences or its renowned Hā: BREATH OF LIFE show which is an award winning show held in the evenings and featuring over 100 Polynesian natives, special effects, and more.
Germaine's Luau
Named one of the best Luaus in America for many years, it has even been featured on ABC's Good Morning America. Nightly visitors have the opportunity to not only eat like kings but enjoy the excitement and culture of a traditional Luau featuring both men and women. Germaine's Luau is located on Kapolei Beach next to Barbers Point Lighthouse, 27 miles from Waikiki on Oahu.
Old Lahaina Luau
Last but not least is the Old Lahaina Luau on the island of Maui. Known for its authenticity and integrity, the Old Lahaina Luau has been named one of the best in Hawaii. Striving to present only the most authentic experience, the Old Lahaina Luau features crafts, demonstrations as well as cocktails, buffets featuring a variety of traditional Hawaiian foods and the award winning show which tells the story of Hawaii in song and dance, like it has for generations.
One of the best ways to experience a culture is by eating and enjoying local customs, and a luau is both. For a truly Hawaiian experience, don't forget to plan a trip to one of these wonderful destinations for tradition, culture and fun.